SGA Network Meeting 2014
26th - 28th Oct 2014, Dubai, United Arab Emirates
The 5th Sub-Global Assessment Network meeting was hosted and convened by the SGAN Secretariat, and supported by the UNEP Regional Office for West Asia, and the United Arab Emirates Ministry of Environment and Water (MoEW). The meeting brought together over 40 ecosystem assessment practitioners from across the globe, to discuss the progress of the SGAN in 2013 and 2014, recent advances in the field of ecosystem assessment, and the plans for the future as the network continues to move forward.
The meeting's objectives were:
Showcase progress and achievements of the Network and its members throughout 2013 and 2014.

Share information, lessons learned and experiences of undertaking ecosystem assessments.

Highlight emerging tools, methods, concepts and issues in the evolving field of ecosystem assessment.

Provide a platform for peer to peer learning.

Provide an opportunity for networking amongst the Network members.

To provide an opportunity to discuss the future of the Network.
Download SGA Network Meeting 2014 report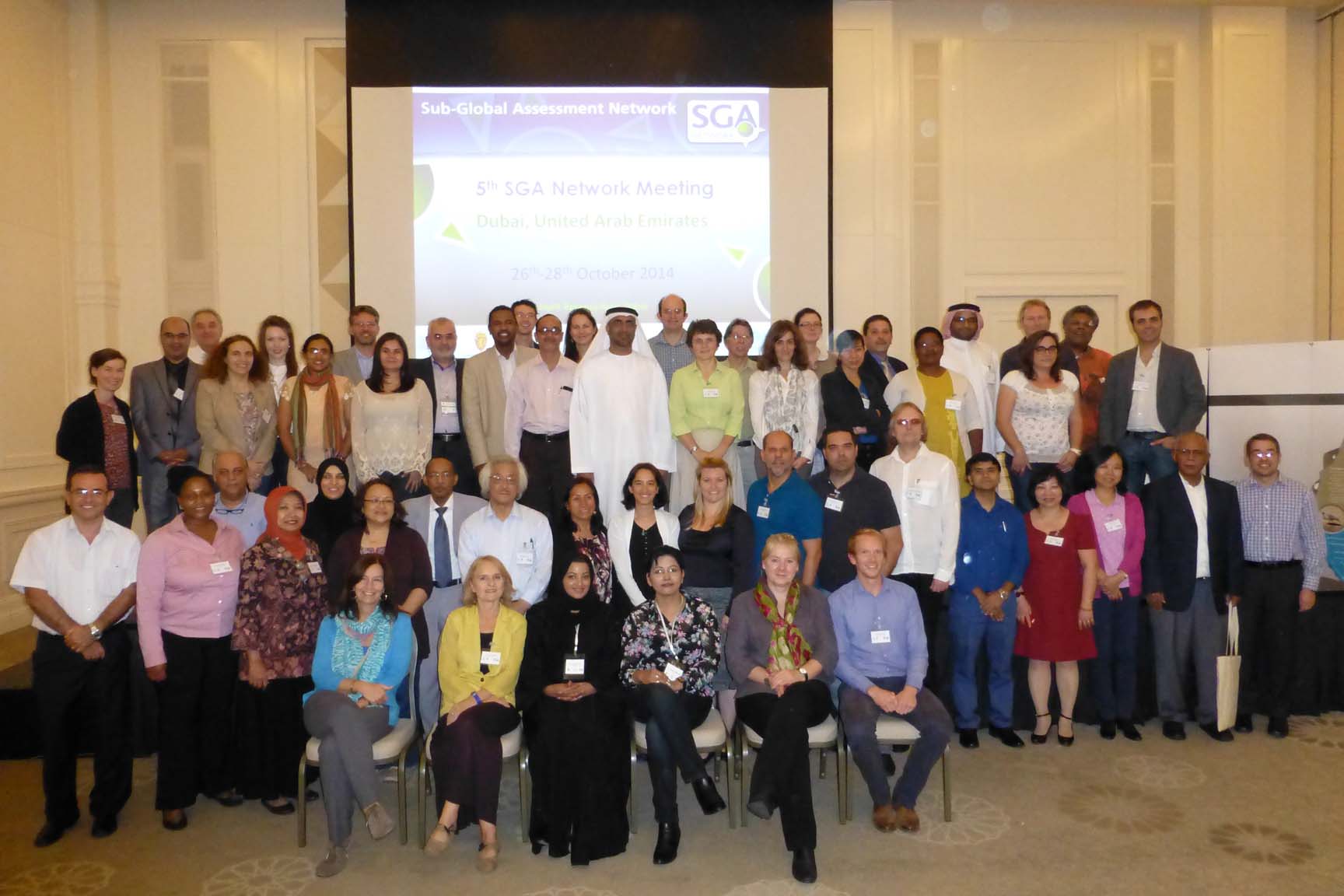 Presentations
Introductions and updates
A focus on West Asia

National assessments
Fernando Santos Martin - Spanish NEA - Download
Courtney Price - CAFF Arctic Biodiversity Assessment - Download
Anne-Gaelle Ausseil - National assessment of ES in NZ - Download
IPBES
Thomas Koetz - Introduction to IPBES - Download
Valuation tools and ecosystem assessments
Jane Glavan - Blue carbon and ES valuation - Download
Capacity Development Assessment Tool
Will Banham - Capacity Development Assessment Tool - Download
Presentations in absentia
Ecosystem assessment mainstreaming

SGA Network 'lessons learned'
 Claire Brown  - Lessons learned revisited - Download
The regional hub approach
Kamaljit Sangha - SGA TEK thematic hub updates - Download
The SGA Network mentoring scheme

Training session: understanding valuation, economics, and ecosystem assessments
Presentations in absentia
Keisha Garcia and Sue Yen Carrera - Impact of local level efforts on national decision making - Download
Keisha Garcia - SGA Network regional hub approach - Download
Luthando Dziba - SADC regional hub - Download
Ardavan Zarandian - SGA Network mentoring scheme report back - Download
Patricia Falk Fernandez - SGA Network mentoring scheme report back - Download
Maria Inzon - SGA Network mentoring scheme report back - Download
Ecosystems Assessments and Scenarios training day
Roy Haines Young - Ecosystem assessments and scenarios - Download
Poster Presentations